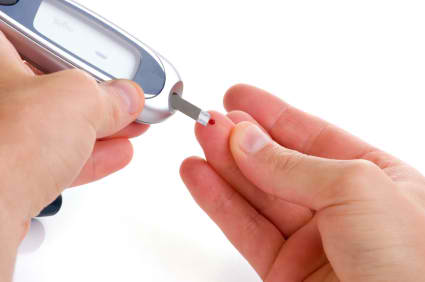 When you apply for life insurance, your level of risk determines which policies you may qualify for and your rates. If you have type 2 diabetes, your premiums are likely to be higher than for someone without diabetes. In addition, the insurance company may only offer you a standard plan instead of a preferred plan. However, you can take some steps to lower your rates.
The Dangers of Diabetes
Diabetes increases your risk for heart disease, stroke, and hypertension, or high blood pressure, and kidney disease. Complications from diabetes are the leading cause of blindness and amputations in the United States. These complications are the result of having uncontrolled blood sugar levels.
Your insurance company will ask you about your A1C levels, which your doctor has likely already tested for in a routine diabetic blood test. A1C, or glycated hemoglobin, is a good long-term measure of how well you are controlling your blood sugar. Lower A1C levels lower your chances of having diabetic complications.
How to Get a Better Policy
The insurance company looks at your risk factors when determining your rates. Keeping your blood sugar levels under control can give you a better evaluation, since lower levels put you at lower risk for diabetes complications. Also, maintain a healthy body weight for your height, or try to lose weight if you are overweight.
Maintain a Healthy Lifestyle
A healthy lifestyle can go a long way toward reducing your health risks. In addition to taking any medications that your doctor prescribes, quit smoking if you are a smoker. Exercise regularly to improve your insulin sensitivity and lower your blood sugar levels.
Your diet is another important factor. Limit sweets and sugar-sweetened beverages because they drive up your blood sugar levels and do not provide many nutrients. Try to reduce your sodium intake and avoid fatty meats to lower your risk for high blood pressure heart disease. Instead, emphasize vegetables, lean proteins like chicken and fish, low-fat dairy products, beans, nuts, and whole grains, such as whole wheat bread and oatmeal.
Spectrum Financial Solutions, LLC located in New Jersey
and
Spectrum Financial Solutions, LLC located in FL
have been assisting individuals and businesses with their financial challenges for over 30 years. Do you need to know about
Privately Financed Universal Life Insurance located in FL
? Call us today.
Family Legacy Unitrust Edge located in NJ
has been created to help families establish lifetime legacies in a unique manner that simultaneously addresses social and family needs.
Applicable Federal Rates located in FL
affect many of your planning tools.
George Klahre
10110 SE Osprey Pointe Dr.
Hobe Sound, FL 33455
732-450-9530
Facebook
|
LinkedIn
|
Blog
|
Email